Gas tank Cleaning System "Super Clean G TAT. +"


The Gas tank Cleaning system
"Super Clean G TAT. +" is chemical.

The chemicals that we use were created exclusively for metal gasoline tanks.


G

as

T

ank

A

ntrust

T

echnology Plus
Repairs on the surface of the tank as good as they can be are useless if the inside is not in good condition.

Repairing the inside of a tank whatever the damage, is now feasible.
Gas tanks that are repaired with "GTAT. +" can last for a long time and the results are almost as the original condition.

We are repairing gas tank for several years and we have refined a method after repairing hundreds of gas tanks.

<< back <<


"G TAT. +" sample stages
| | |
| --- | --- |
| inside rust | outside rust |
| | |
| --- | --- |
| inside after the GTAT + | outside after GTAT + |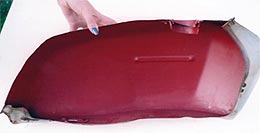 GTAT + chemicals are absorbed by the tank for maximum protection